Our essential fall recipe, bringing energy and comfort !
This granola doesn't contain any grains, so it is low in carbohydrates, refined sugar free, gluten free, very easy to digest and full of essential nutrients. It is made of coconut flakes, seeds, nuts and spices. It is packed with protein thanks to pecans, almonds and pumpkin seeds. Nuts, seeds and oil provide healthy fats that are essential for the proper functioning of the body.
The chosen spices will both, subtly flavor the granola but also each bring their own benefits and strengthen the immune system. Ginger has anti-inflammatory properties; it stimulates digestion and absorption of nutrients. Cinnamon is rich in antioxidants and one of its many properties, is to regulate blood sugar level. And vanilla, which beyond its delicious sweet aroma, has, thanks to its richness in antioxidants, many healing benefits for skin, hair and also stress management.
This granola is easy to make and will be the perfect ally of your breakfast or a healthy and delicious snack.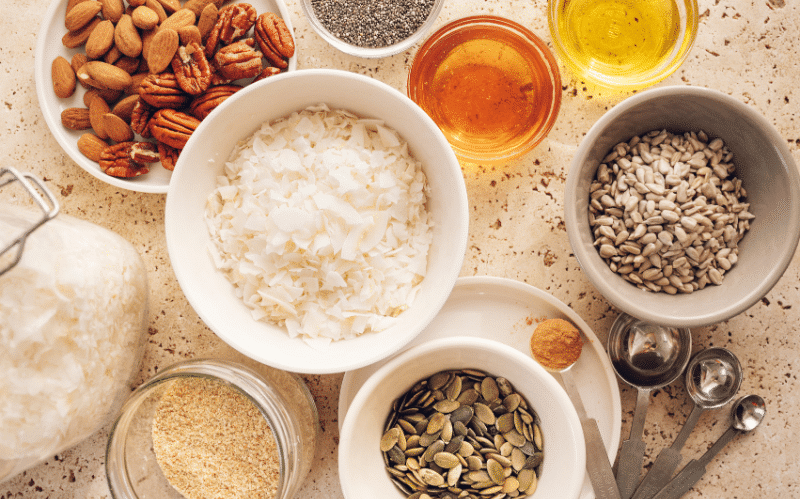 Recipe
Ingredients:
250g coconut flakes
80g sunflower seeds
60g pumpkin seeds
40g chia seeds
40g crushed pecans
40g walnuts or crushed almonds
2 teaspoons of ground cinnamon
1 teaspoon of ground ginger
1 teaspoon of vanilla extract
A pinch of salt
120ml of maple syrup or agave syrup
60ml olive oil or coconut oil
3 tablespoons of ground flax seeds
7 tablespoons of water
Steps :
Preheat the oven to 375F.
In a small container, mix the water and ground flax seeds, set aside for 5 to 10 minutes.
In a bowl pour the olive oil (or coconut oil), maple syrup (or agave), vanilla extract, then add ginger, cinnamon, salt and mix.
In a large bowl, add the coconut flakes, sunflower seeds, pumpkin seeds, chia seeds, crushed pecans and crushed almonds. Pour the olive oil / spice mixture and the water / ground flaxseed (flax egg) mixture over it. Mix everything together with a wooden spatula.
Cover one or two baking sheets (depending on the size) with parchment paper, pour the mixture and spread evenly. Bake for 30 minutes, until the granola turns golden. Take out of the oven and let cool completely.
Store the granola in an airtight jar. You can swap for the spices of your choice, cardamom, nutmeg, clove, turmeric.
Enjoy with your favorite plant-based milk (or yogurt) and top it with seasonal fruits or berries.