Sugar is our skin's public enemy number 1. It is responsible for several deleterious phenomena on the skin (acne, lack of suppleness, dull and tired complexion, …) and accelerates the aging effects. Bad fats as well as alcohol and tobacco are also very harmful.
Sugar is everywhere … where you can see it but also where you don't expect it. Hence the importance of favouring homemade non processed food such as green vegetables (cooked at a low temperature, ideally steamed), to be eaten as a juice or raw vegetables if you tolerate them, good fats (avocados, oilseeds, good PPF oils, especially those rich in Omega 3), quality proteins as well as good hydration every day.
Other elements can also help to have beautiful skin and preserve it (be careful not to self-medicate, seek the advice of a professional, doctor or certified naturopath before integrating them into your routine):
Evening primrose and borage
Spirulina in powder or tablet form
Zinc
Collagen
Hyaluronic acid
Pomegranate
Omega 3 EPA DHA
Manuka honey
Antioxidants: vitamin C, selenium, urucum, polyphenols, …
Vitamin E
MSM
The Omega 3 mentioned above are essential for the skin because they are very nutritious. They protect and strengthen it. They make the skin smooth, supple and slow down the aging process. For some people, dietary supplements may be necessary.
Otherwise, you can regularly consume food rich in Omega 3 such as oily fish (herring, sardines, mackerel) as well as linseed, hemp or camelina oil, for example. These vegetable oils can be consumed daily at a rate of 2 tablespoons, without ever cooking them and by keeping them in the refrigerator.
Vegetable butter recipe
I offer you today my vegetable butter recipe, very rich in Omega 3, that you can integrate in your daily diet!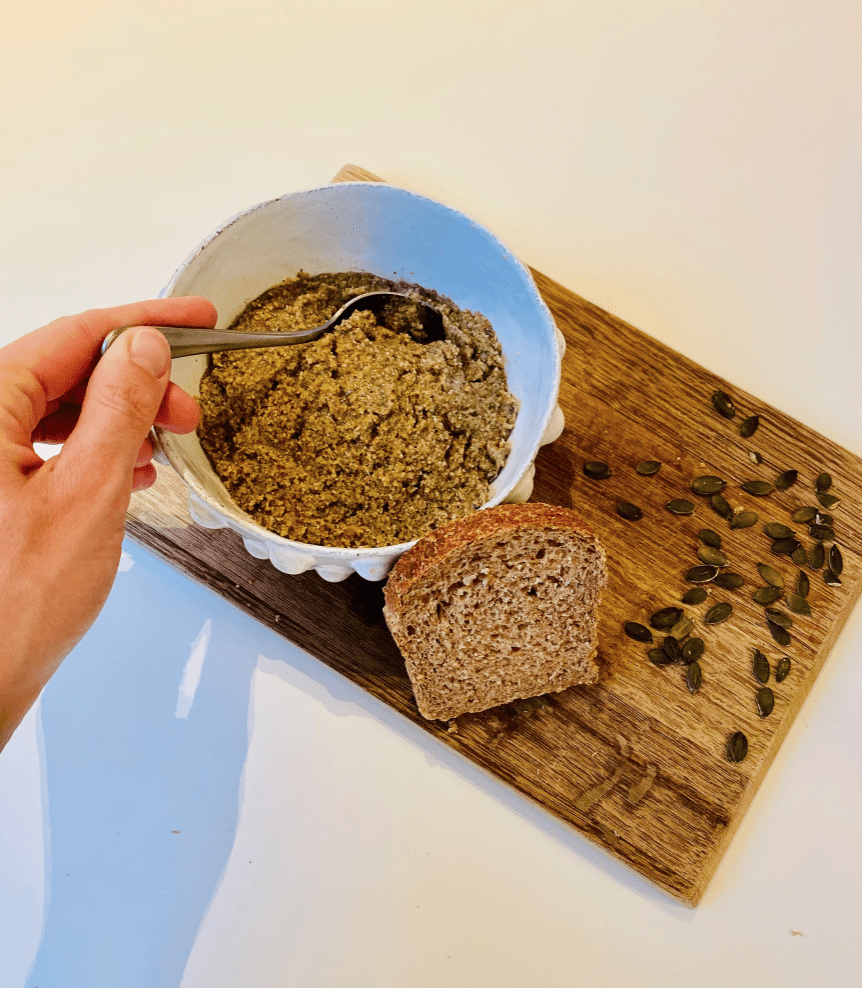 Ingredients:
20g of flax seeds
50g d almonds
30g of sunflower seeds
30 to 40ml of vegetable oil rich in omega 3: flax, hemp, camelina for example.
Preparation
In a blender (strong enough to be able to mix seeds and oilseeds!), grind the flax seeds at first, then add the almonds, sunflower seeds and little by little the vegetable oil, while continuing to mix, until you obtain a paste. You can also add one or two pinches of fleur de sel. You can also add spices (cinnamon, turmeric, cumin, cardamom) and even seaweed (spirulina, wakame, kombu, …). You can now eat it on a slice of gluten-free bread or wholemeal bread!
If you need more information or have any questions, please do not hesitate to contact me through my website or on Instagram @aurelie.canzoneri